HISTORY//
Annihilation Time was formed in late 2001 by guitarist Graham Clise, vocalist Fred Hammer, drummer Jamie Sanitate and bassist Chris Grande. Soon Tony Melino was recruited as second guitar. After playing a few shows and partys around the Ventura County area, Sanitate and Melino, along with the rest of the band, decided it would be best to switch their roles in the band as both excelled at each others respective instrument. This line up would shortly there after record what would be the first Annihilation Time record around March 2002. The band then did a US tour with fill-in drummer Clinton Stoggsdale, as Tony was unable get time off from school.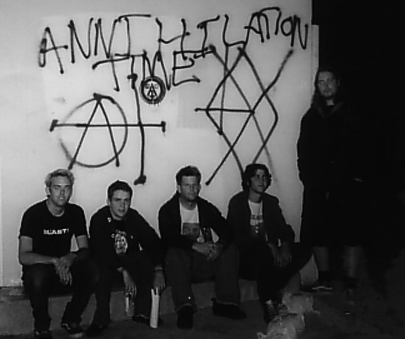 (l-r: Graham, Chris, Fred, Jamie, Tony)
The end of 2002 would see the departure of Fred Hammer. In his shoes stepped US tour roadie Jimmy Rose, a Parma, Ohio native then living in Oakland, CA. His first performance with the band was on college radio in Santa Barbara in December 2002. In June 2003 they recorded the Bad Reputation EP for DeadAlive Records (now defunct).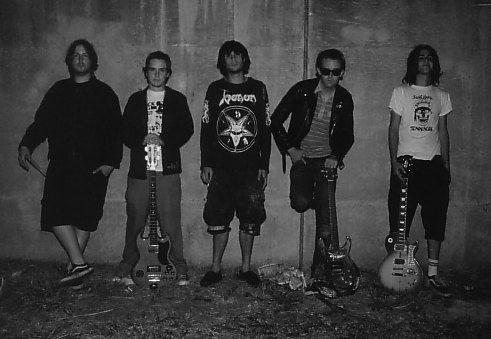 (l-r: Tony, Chris, Jimmy, Graham, Jamie)
A week before the subsequent tour for said record, Sanitate decided to step down from the band, leaving it a 4 piece.The band would tour the US twice with this single guitar line-up, where after the winter '02 tour with Holier Than Thou? they picked up Cleveland native Shaun Filley to move him out to California. Shaun was an old bandmate of Jimmy's (see Puncture Wound and Gordon Solie Motherfuckers) and by the time they reached California he had been asked to join the band. This 5 piece line-up of Clise, Grande, Melino, Filley and Rose would remain stable for some time, touring the US several times and Europe twice. The first European excursion would yeild a recording in Den Haag, Holland in May 2004 that would become the notorious II LP on Manic Ride Records (now defunct), which was repressed on vinyl by Six Weeks Records in 2005 and finally re-re-released by the bands own Annihilate Records in 2006. This album would be followed up in January 2006 by the Cosmic Unconsciousness EP on Tankcrimes Records.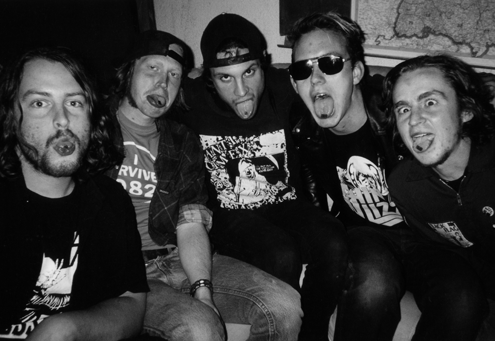 (l-r: Tony, Shaun, Jimmy, Graham, Chris)
By the end of 2006, Shaun Filley decided to move back to Cleveland and part ways with the band. Likewise, Melino, unable to handle the rigerous touring the band was doing, also decided to leave. However, in mid 2006 both Grande and Clise had decided to re-locate to Oakland, CA and had been jamming with former Holier Than Thou? drummer and long time A.T. roadie Noel Sullivan. It was decided to then incorporate Sullivan into the band with the addition of So. Cal transplant and guitar virtuoso Wes Wilson on second guitar, solidifying the bands fourth 5 piece lineup. This band would then record Annihilation Time III: Tales of the Ancient Age for Tee Pee Records at the end of 2007.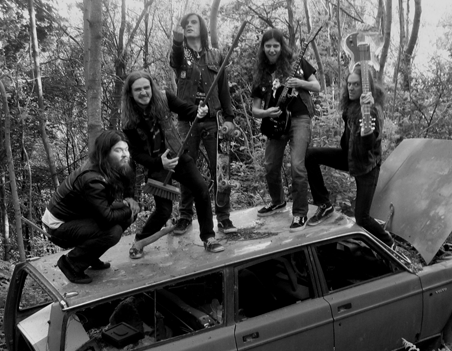 (l-r: Noel, Chris, Jimmy, Wes, Graham)
In early 2009 Jimmy decided he no longer wanted to be in the band. The boys decided to pack it in rather than replace him. So as it stands Annihilation Time is no more.
WHERE ARE THEY NOW?:
Graham, Noel and Chris have teamed up with Jimmy's old mentor Lakis Panageo-something-or-other to form LECEHROUS GAZE.
Wes teamed up with long-time AT roadie Crispy and Michael Jackson-protoge Alex Jolly to form the Tank-like trio LAZY DOGS.
Jimmy has teamed up with Pittsburgh pals to form RATFACE (not to be confused with the Bristol "punk hop" of the same name), in which he slangs the guitar.